I AM SO GLAD
YOU'RE EVEN
CONSIDERING
THIS SESSION!
IT'S ABOUT
TIME YOU DID
SOMETHING
FOR YOURSELF.
. . . . . . . . . . . . .
Below you'll find the answers to lots of commonly asked questions (questions shown in

my favorite 
blue

) regarding my LittleBlackBook sessions. If there is anything you want to know that you can't find, just get in touch with me using the top or bottom of this page =)
. . . . . . . . . . . . .
. . . . . . . . . . . . . . . . . . . . . . . . . . . . . . .
"I'm too nervous, my body isn't right, I have no good reason to have these photos taken, etc."
If this is your first session of this nature and/or first time meeting me, you'll probably come into your boudoir session pretty nervous. That's totally normal!  What happens after that, though, is  like actual magic.

You'll leave feeling confident, renewed, and excited for the version of you I was able to capture during your session. These sessions will help you break out of your comfort zone - even if you don't feel ready beforehand - and you'll see yourself in a new way both during and after your session.

Your body DOES NOT need to fit some silly societal standard before you can book this session. Your scars, your curves, your shape, your rolls, your stretch-marks, and your skin are ALREADY beautiful and I'm so ready to help you see YOU in a way that you've maybe never even seen before!

 It doesn't matter if you don't have an anniversary, or partner, or "reason" to take these photos - you wanting to feel amazing and love YOURSELF as you are is reason enough! 

We'll use posing and shadows and lighting to show you in your absolute best light, and in your pre-session questionnaire I'll ask about anything you're self-conscious about and want to avoid highlighting;
 don't stress, girl, I've got you!  
. . . . . . . . . . . . . 
"I'm not photogenic, I am terrible at posing, I'm not sexy..." 
I call bullshit. Sorry to be blunt, but just being honest. EVERYBODY IS SEXY and EVERY
BODY
 is sexy. You just have to trust me, and trust the process and let me show you, especially if you're not used to feeling that way =)

Chances are, you haven't done any research about taking flattering photos in the right light at the best angles and chances are, you don't have someone at the ready to help you implement that knowledge or equipment to help you, either - SO, why would you know how to pose for these photos? You probably don't and that's totally okay; that's my job - duh!

I've been plus-size my whole life, but I've also really loved taking pictures of myself and others MY WHOLE LIFE. I've been posing myself and others for decades, along with educating myself, not only in college, but through workshops and courses, so that I am able to help others look their best even when they "don't know what they're doing". 

I am 100% confident I can get you amazing photos where you feel like the most bad-ass version of yourself; you just have to give me (and yourself) the chance.
. . . . . . . . . . . . . 
"I don't know what to wear and don't want to spend a bunch of money on lingerie..." 
Girl, let me help you. Talk to me about your style, your hopes for the session, and your budget for outfits, and I can recommend styles, places to shop, etc. I am 100% here for you and ready to make this an experience you will LOVE from start to finish.  

Basic suggestions: bodysuits look good on EVERYONE. They hold us in while still letting us have low cut necklines, have short and long sleeve options for those of us a little more self conscious of our arms, and come in just about EVERY COLOR AND FABRIC YOU CAN IMAGINE. 

Even if a bodysuit isn't something you'd be comfortable wearing as lingerie normally, I PROMISE they are the perfect solution when self conscious but still wanting to do a session and feel SEXY AS HELL.

Babydoll styles are great for a few shots, but can end up making you look boxy instead of showing your shape; which - let's be real - the reason you're doing this session is to show your shape. So, if you want to bring one because you love them DO IT; but I suggest bringing a second style of outfit, too, for some different shots. Bra & panty sets, bralettes, lingerie, stockings, coverups, fishnets, robes, heels, etc. are all amazing to bring along! 

Want to use what you've already got/super cheap?
You can wear denim shorts and a sexy bra or see through tank/top (....or no top) for a sexy, easy look. A basic or see-through t-shirt/sweater or button-up sweater with some cheeky panties is the PERFECT laid-back sexy look. Leather jackets (or pretty much any jacket) with panties is hot. You know those lace sweater things every girl wears with t-shirts and jeans? THOSE LOOK so good over lingerie and you probably have a few styles in your closet. It's so easy to overthink the outfits, but there's no need to.

If you want me to help you plan your looks for your session just LET ME KNOW, I'm here for you!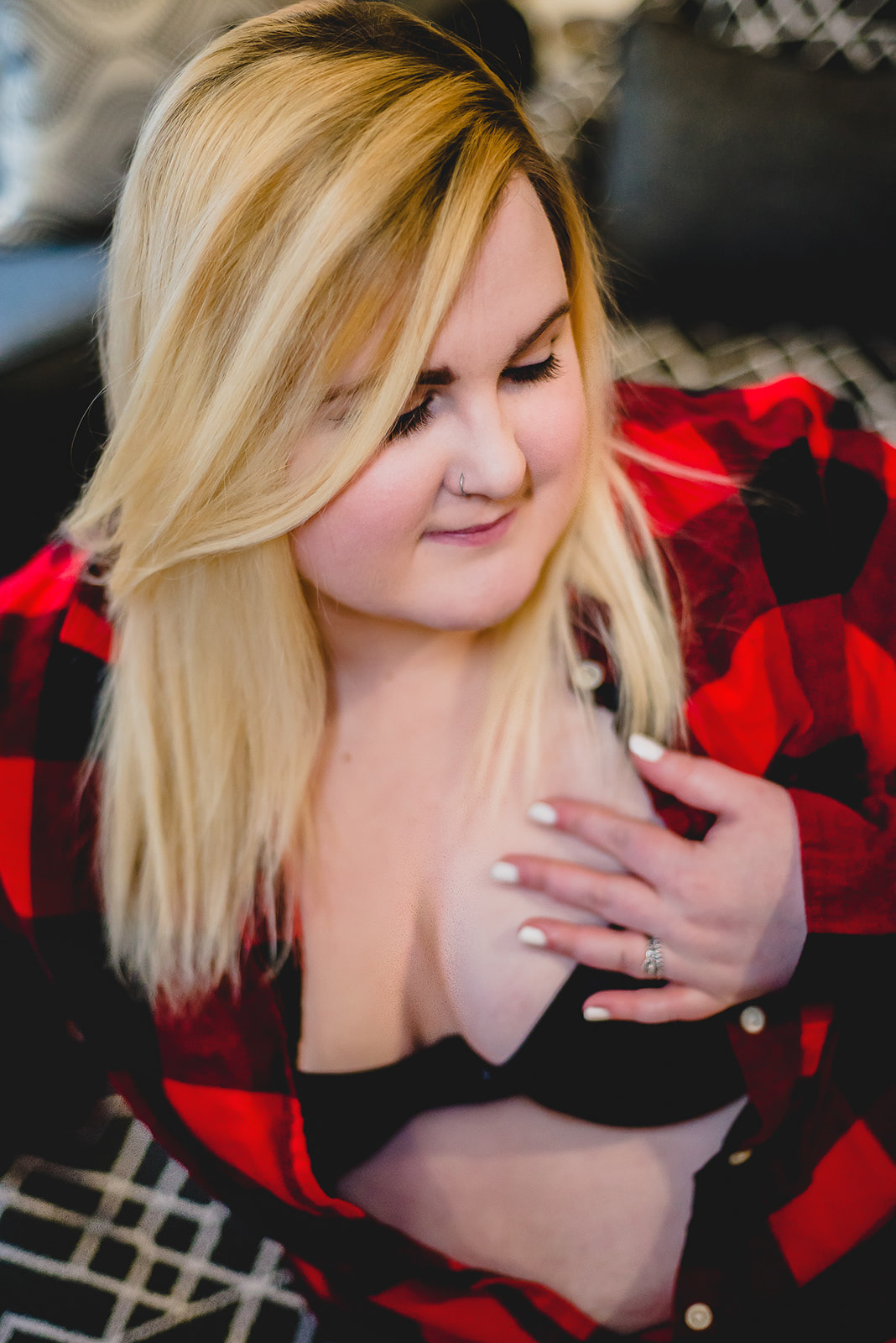 . . . . . . . . . . . . . 
​​​​​​​
"Can I bring a friend for moral support?" 
UH, YESSSS. Let them come and hype you the heck up with me, help you with hair/outfit changes, and make it even more fun for you. I have no issues with friends coming along, however, taking photos while I am shooting is not permitted. (Selfies in between are totally fine!)
 A friend, if you need a hype woman that isn't me, is totally fine with me - so please feel free to bring along your BFF for moral support, and to help keep you feeling comfortable and having fun! These can be nerve-racking sessions, duh, you're almost naked in front of a stranger; but, I promise they are FUN, and if having someone you trust and are already super comfortable with along with will make you feel better, DEFINITELY bring them along. Sometimes, just having someone to chat and laugh with us is a huge confidence booster, too!
. . . . . . . . . . . . . 
​​​​​​​
"What should I bring with me?" 
Your outfits and accessories, any shoes you want to wear (not necessary, your choice!), any hair/makeup changes and repair kit stuff that you might need, jewelry is an awesome touch (if you've never seen body chains go check them out and see if you want one or 10 for your session!), and if  you have any special items you plan to be incorporated, please let me know beforehand and then bring them along. Other than that, we just need you to come excited and ready to step out of your comfort zone a bit - in the best way, of course!

You are also totally  welcome to bring a playlist of your favorite hype-songs ready to hook up to the speaker and jam to your own music during your session. =) 
. . . . . . . . . . . . . 
"What comes included with my session fee?" 
Your session fee covers the time for the session itself, the planning prep & cleanup from your session, an online proofing gallery for going through the images from your gallery (usually 100-200 images; you'll have 2 weeks for selecting your images), and a set number of digital images that is made clear when booking your package.

It does
not
include hair and make up, extra session time, unlimited access to all proof images, additional images, or any prints or products - those things are ALL available to be added onto your session and to your chosen collection at an additional cost.

After your session, you will choose your desired collection to make the most of more of the images from your session. Whether you're looking for just digital products or physical print products like matted prints, albums, canvases and metal prints, too - I've got it all and you only have to order what YOU want!  
. . . . . . . . . . . . . 
"What precautions are you taking due to COVID-19?" 
The safety of my clients, myself, and our families are top priority. Due to the current health circumstances surrounding COVID-19, I will not be doing back-to-back sessions, as I need time to clean the space, materials, and bedding before each and every session. All necessary safety precautions are being taken - I will be wearing a mask during your session when required, hand-sanitizer will be available, and I'm happy to answer any questions you may have about any precautionary measures being taken for health and safety. 
. . . . . . . . . . . . . 
"Do my photos have to be posted online for others to see?" 
GREAT BIG NEGATIVE! No no no no no.  What I do with the images I take of you is your call, first and foremost; and I will not post or share them in any way without your okay to do so. During the booking and contract process we will go over model release options, too, so you get to tell me exactly what you are and AREN'T comfortable with me doing with your images.
"But for real....can I have a drink before my session starts/during?" 
GREAT BIG YESSSS! I will have some bottled water available during your session, but am not legally allowed to provide you with alcohol. That being said, I have zero issues with you bringing along some champagne or your favorite beverage to calm your nerves a bit; just remember a safe, sober driver will be needed after your session and you can't drink too much because you've got to be able to take (a lot) of directions, lol!
 
. . . . . . . . . . . . . 
"How should I prep for my session?" 
This is a tough one to answer, because my beauty standards and Sally Smith's beauty standards aren't the same as yours! Come as you; come as you want to be photographed! Don't forget to shave and lotion anywhere that you want to be smooth for our session; but, be mindful of whether or not your skin breaks out and handle accordingly. Wear your hair how you like it best. 

Things suggested not to do? Spray tan or self tan within 48 hours of your session - I will not be able to edit streaking /missed spots without charging an additional  editing fee, so just be careful is all!  Same goes for waxing/ intense hair removal right before - you don't want big red spots.

One week out from your session, you should start drinking lots of extra water to give your skin an extra layer of natural luminance (Seriously, it works), do any waxing or intense hair removal that YOU feel is necessary, and start gathering your lingerie pieces up. Remember, you can bring extras and we can go through them  together during your session to choose the best combinations based on the sets you want to use in the studio. 
It is advised for you to come with your hair and make up done and ready for your session. If you'd like to have your makeup artist do your makeup at the studio directly before your session begins, please make arrangements with me PRIOR to booking, so we can make sure to make that happen for you. 
. . . . . . . . . . . . . 
"So like...do you offer payment plans?" 
Yes! These sessions are an investment in yourself and I understand not everyone has the extra money available all at once for one. If you're totally ready to book but your bank account isn't, get in touch for us to set you up on a pre-payment plan.

Just choose your session package and collection, your weekly budget for payments, and we'll set you up on a payment plan to pay off your session and collection in full before your set session date!  That way come session time, you're ready to shine and don't have to stress about payments.  
. . . . . . . . . . . . . 
"Can I order prints or albums?" 
YES! Some of the collections include these items, but you're always able to add them on or order them yourself directly through your final gallery. The custom designed faux-leather little black books are AMAZING and there is nothing like seeing your photos actually printed!
Want to be on the inside of what is going on with sales, limited edition sessions, some girl-talk, and just in-general ladies hyping other ladies up?

Click Below to Join my Ladies Only Facebook Group!
 . . . . . . . . . . . . . . . . . . . . . . . . . . . . . . . . . . . . . .
Thank you! I try to respond to all emails within 24-48 hours depending on when received.