. . . . . . . . . . . . . . . . . . . . . . . . . . . . . . . . . . . . . .
The 
 ------------- - -  -   -    -       - 
LittleBlackBook
Session 
i
s the photoshoot you didn't know you needed to do, but NEED to do. You'll come into your boudoir session nervous, but leave feeling confident, renewed, and excited. They will help you break out of your comfort zone - even if you  don't feel ready - and you'll see yourself in a new way both during and after your session. These sessions are a truly amazing experience, and even though you may be nervous to schedule (which is totally understandable), once we begin your session you feel comfortable quickly, and then walking out afterwards you'll barely even remember what you were nervous about!
A FEW THINGS TO NOTE BEFORE YOU GO FURTHER...
Your body does not need to change AT ALL before you book this session.
You don't need to spend a bunch of money on fancy outfits for these sessions.
You don't even need to feel ready, because maybe you never will, you just have to be brave! 
LEARN MORE ABOUT BOUDOIR SESSIONS WITH ME BELOW...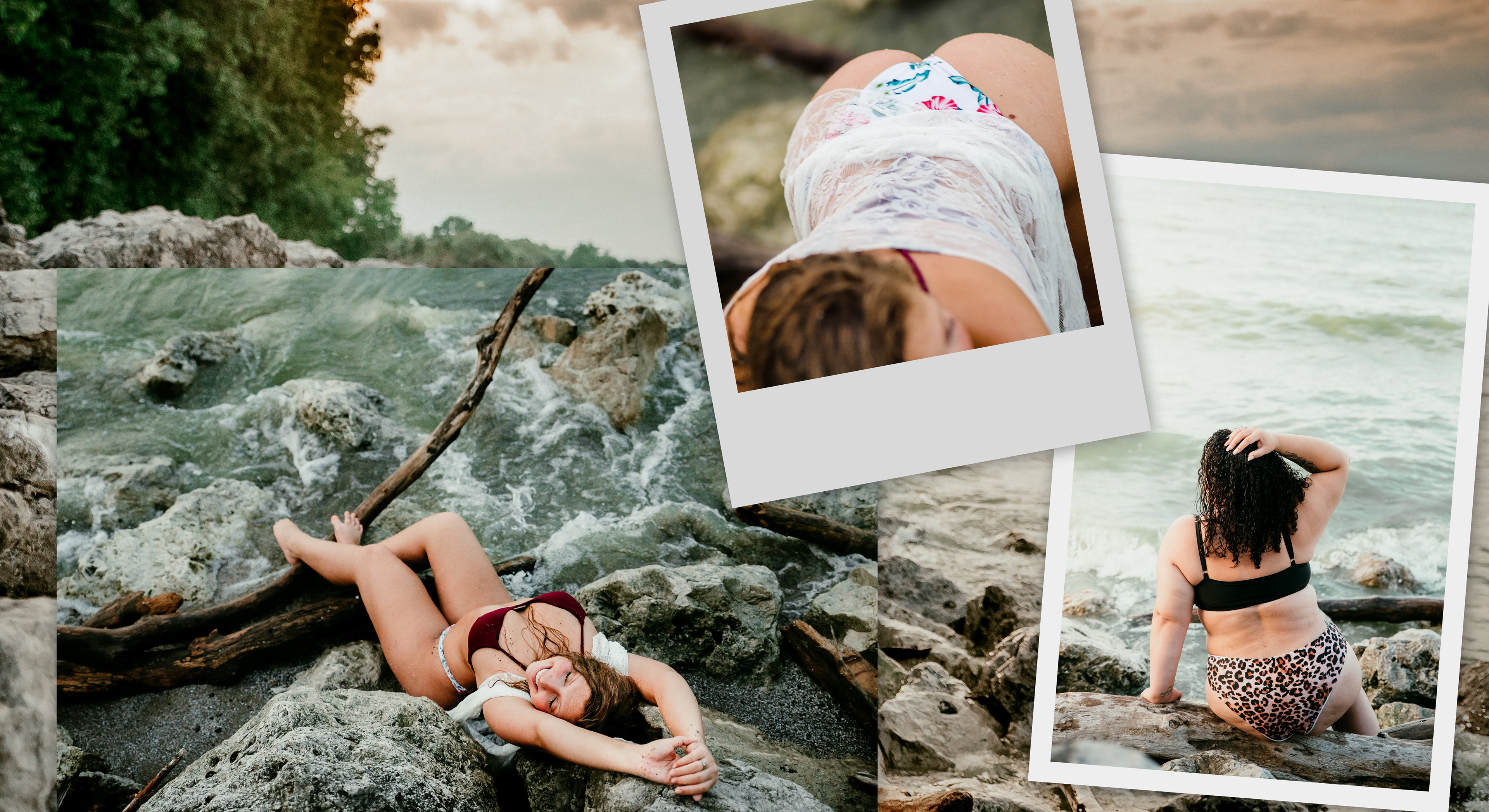 A little bit about Boudoir Sessions - or as I like to call them,
LittleBlackBook 
Sessions...
.............................. . . . .  .   .    .    .       .          .            .
First we talk about what you're looking to get from your session, what you feel great and maybe not so great about, any ideas you have in mind (it's okay if you don't have any!), outfits, etc. to make sure the experience is tailored specifically to you.. We will set a date and time that works for both of us, decide on the style you're hoping for & pick a location to match for your session to get you amazing photos and an incredible experience! 
things to note about these
sessions with me:
These sessions are for you to help love yourself and feel amazing about your body. I will not expect you to style, dress, or do anything that doesn't make you feel like the most badass beautiful version of  yourself. These photos, first and foremost, should be taken for you, because YOU want to feel amazing and maybe you need or want a bit of help to see just how beautiful you already are.
I DO NOT EXTENSIVELY cosmetically edit these photos - you will look like yourself, you won't have plastic looking shiny skin, I won't make it look like you are someone you aren't by changing your skin texture or making in-depth size alterations. These sessions are all about loving yourself for who you are, and I feel that altering the photos in that way hinders my mission of promoting self-love. Now don't worry - this DOES NOT mean you need to worry about blotchy/uneven skin, makeup oopses, breakouts, bruises, etc. showing up in your photos! I still clean up such distractions, and even without that fake stuff you will feel AMAZING when seeing your final photos because I will take flattering, fun, SEXY photos of you in your best light, at your best angles, and make you feel like the goddess you are. 
E
What Else?
> You are encouraged to have lingerie / outfits planned out and YES, we can do these sessions right in your own home! We do not need a ton of space for  sessions  -  a bedroom or living room with some window light coming in is plenty! If you do not wish to use your home or my studio for your session, we can add in the cost of a rental space into your package price - this would be priced on a case by case basis. 

>>I love doing outdoor Boudoir Sessions when weather permits; private outdoor location available for additional fee, or if you're feeling extra adventurous, outdoor boudoir is beautiful and always an option all around Northwest Ohio in Beautiful Settings!

>>>Though I offer a wide variety of digital & print products, there is no pressure to purchase anything after your session and no minimum order. You decide what works best for you.


>>>>Coming in Fall of 2020 CI Photo will have a private Studio for Boudoir Sessions !!!

Have Questions? You're not the only one, I promise.
Check out my Frequently Asked Questions About Boudoir Sessions:
Want to be on the inside of what is going on with sales, limited edition sessions, some girl-talk, and just in general ladies hyping other ladies up?


Click Below to Join my Ladies Only Facebook Group!
 . . . . . . . . . . . . . . . . . . . . . . . . . . . . . . . . . . . . . .
Thank you! I try to respond to all emails within 24-48 hours depending on when received.